Hamza Law Firm has developed expertise in dispute resolution through mediation or arbitration both nationally and internationally.
We offer the opportunity to better defend the interests of our clients by redirecting them towards a consensual treatment of the disputes that have arisen, each time that it is judicious, by presenting the solutions that can lead to compromise rather than trial, especially in situations where the parties will have to maintain their contractual relations during and after the litigation.
Mediation and arbitration are an alternative way of resolving disputes to tribunals where the arbitrator's decision would provide more appropriate solutions than those that could be brought by a court of law. We intervene within the framework of ad hoc or institutional procedures, where the procedures are fast and confidential.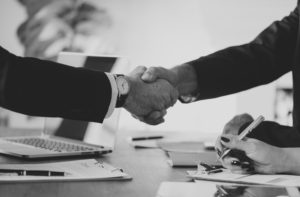 Depending on the choice of parties and their contractual arrangements, our services may include the conduct of negotiations and any follow-up necessary to mediate or arbitrate.
Commercial disputes
As part of assisting our clients in the preparation of contracts, partnership agreements, sponsorship agreements, financing agreements, confidentiality and non-disclosure agreements, licenses, etc. and to prevent disputes, risks are identified according to the sector of activity of the company concerned and specific models of arbitration clauses or arbitration agreements are provided.
Arbitration and alternative dispute resolution are used to resolve disputes relating to conflicting business relationships and conflicts between companies, including disputes between partners, disputes over the conclusion or execution of commercial contracts, unfair competition, professional liability and questioning of managers.
Business-related disputes may be dealt with under arbitration rules of commercial arbitration institutions, such as the dispute settlement procedures of the International Chamber of Commerce(ICC) and those of the International Center for Settlement of Disputes. related to investments  (ICSID)
Industrial property
Our technical expertise in intellectual property grants us efficiency and performance in the context of mediation or arbitration procedures.
We advise our clients on the specific models of arbitration clauses and arbitration agreements, particularly adapted to their situations, in the framework of preparation of contracts and agreements relating to copyright and industrial property rights (production and co-production agreements distribution agreements, broadcasting agreements, music synchronization agreements, new media agreements, access agreements to laboratories, co-ownership agreements …),
Our fields of intervention are many: brands, domain names, designs, patents, software, plant varieties, etc.
We are familiar with the many specific regulations in this area, such as the WIPO ADR Procedures, the Uniform Domain Name Dispute Resolution Policy (UDRP Principles), or the Mediation System. Expedited Arbitration of the WIPO Arbitration and Mediation Center for the Film and Media Sector.